Financial Transparency Documents
Charter School Adopted Budget - Including Uniform Budget Summary (current and prior two years)
Charter School Financial Audit (current and prior two years)
Charter School Salary Schedules or Policies (current and prior two years)
Teachers on TCP
All DSST Teachers who are evaluated on the Teacher Career Pathway will be eligible for an annual percentage raise based on their performance using the chart below. The actual amount of this raise will be determined by three factors:
The Culture, Team and Instruction (CTI) score; 1-5

Student Achievement data for all of the teacher's courses; A,B or C

Current salary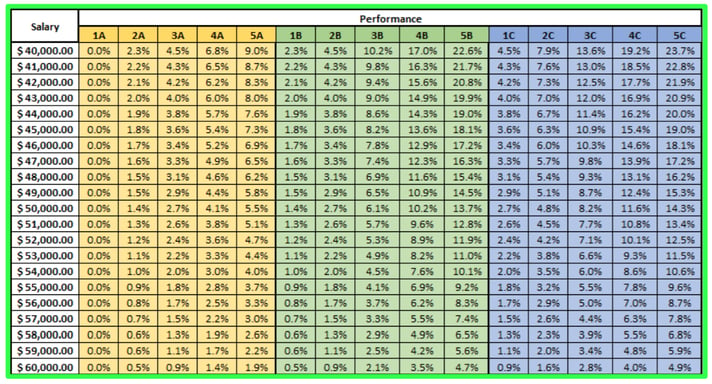 Teachers NOT on TCP
Beginning from the 2018-19 school year, full-time DSST Teachers, who are not on TCP will be allocated a raise through the non-instructional raise pool. Each year non-instructional staff are eligible for a percentage raise driven by the total available raise pool, the employee's performance and their current salary. The non-instructional raise pool allocation is lower than TCP raises at high performance levels. For more information on the Teacher Career Pathway, please review the TCP Guidebook.
DSST Public Schools State and District Waivers:
Federal Form 990, 990-EZ, or 990-PF and any associated schedules
Other Charter School Specific Financial Information
DSST does not have any other charter school specific financial information to report.
Link to Authorizing School District's Financial Transparency Webpage
Link to Public Financial Transparency Webpage
Contact Information:
Nick Plantan, Vice President of Finance
Phone: 303-524-6324
E-Mail: Nicholas.Plantan@scienceandtech.org
DSST Public Schools
3401 Quebec Street
Suite 2000
Denver, CO 80207
Phone: 303-524-6324
Required Link: Colorado Department of Education School Finance Division
---
View DSST Public Schools' Open Records Act (CORA) Policy here.
Network Title IX Coordinator: Christine Nelson, Chief of Staff
Contact: christine.nelson@scienceandtech.org