DSST Public Schools is a network of public, open enrollment, free charter schools in Denver and Aurora. Our eight campuses serve middle and high school students and are widely considered to be among the leading open enrollment STEM (Science, Technology, Engineering, and Math) schools in the United States, and has become a destination for educators nationwide. DSST schools are home to the highest performing and highest growth secondary schools in Denver and Aurora Public Schools, and to date, 100% of our graduates have been admitted into college, university or a post-secondary program.
OUR MISSION
DSST Public Schools transforms urban public education by eliminating educational inequity and preparing all students for success in college and the 21st century.
DSST Working Definition of Educational Equity: Ensuring that outcomes of DSST students are high-achieving and do not correlate with any predictable social or cultural factors. This is achieved through interrupting inequitable practices, examining biases and other root causes of inequities, and actively valuing diversity and inclusion.

OUR VALUES
DSST Public Schools is a values-driven organization and a deliberately integrated community, serving students from all walks of life. Our six Core Values are central to our program and to our results. These values are truly embedded in everything we do.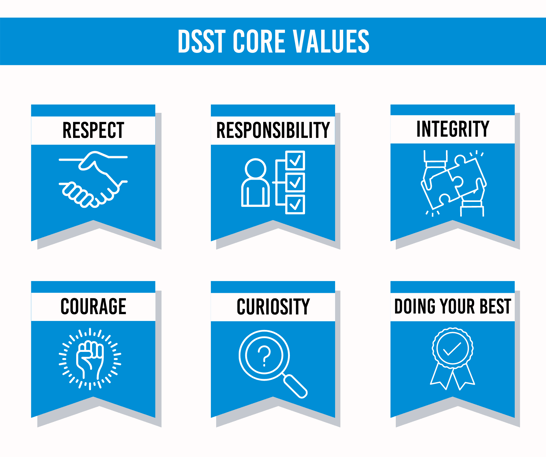 Respect: We appreciate each person and their story through our words, actions, and attitudes. We value their unique perspective and treat others with dignity.

Responsibility: We acknowledge that our actions and choices impact ourselves and our community. We take ownership for what we do and how we choose to do it.

Integrity: We act and speak with honesty, fairness, and thoughtfulness. We consistently align our words and actions.

Courage: We possess the confidence and resolve to take risks, push ourselves, and persevere in the face of pressure, adversity or unfamiliar circumstances.

Curiosity: We are eager to learn, question, and explore. We have a thirst for knowledge, a love of investigation, and a desire to learn about ourselves, our community, and our world.

Doing Your Best: ​We put our best effort into everything we do. We know that individual and collective effort are required for our community to thrive.
OUR graduate profile
In order to achieve our mission, DSST has developed a graduate profile that aspires to develop graduates to be successful in college & become the STEM leaders of the future if that is the path they so choose. Ultimately, we seek to develop graduate to become the best versions of themselves, lead fulfilling lives, and make a contribution to the human story aligned to their chosen purpose.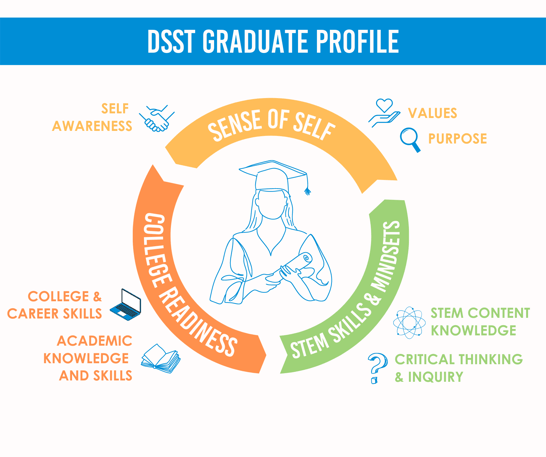 Sense of Self
Self awareness
- Examine and strengthen our own identities
- Empathize with and honor the diversity of perspectives & identities in our communication and actions
Purpose
- Explore what matters to us, our vision for our future, and how we use that to impact the world
Values
- Learn and strengthen our own values and make choices aligned to them


College Readiness
Academic knowledge and skills
- Master core academic disciplines and engage with rigorous content and learning experiences to prepare us for success in a 4-year college and the 21st century,
College and career ready skills
- Develop the knowledge and skills necessary to establish independence and agency to thrive and succeed in college and career settings
- Self-advocate when faced with obstacles and in support of your values


STEM Skills & Mindsets
STEM content knowledge
- Develop rigorous, specialized STEM knowledge that ensures access to STEM majors and careers
- Gain understanding of the career opportunities in STEM fields
Critical thinking and inquiry
- Synthesize, evaluate, and analyze information and data to identify and solve problems
- Be curious, develop hypotheses, investigate and test solutions to solve problems