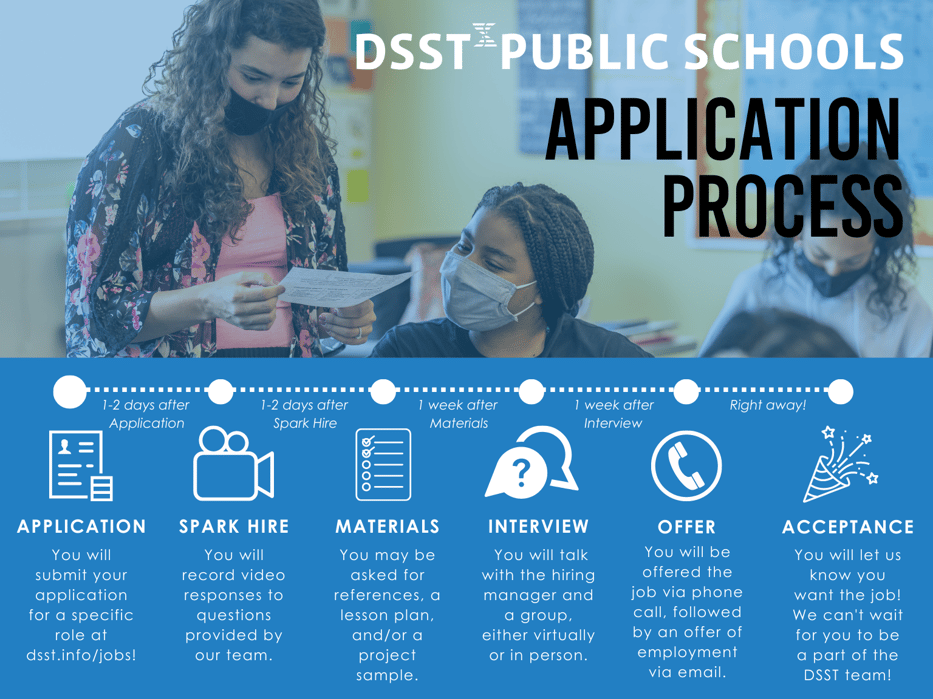 Application Tips
Share your story
Research DSST and the role for which you applied
Show off your skills in the materials
Be prepared with questions
Attend a DSST event (more info coming soon!)
If you have any questions, contact the Talent Team!
FAQs
Do I need to have a certification?
DSST Public Schools follows the guidelines provided by Colorado Department of Education (CDE) and Denver Public Schools. All teachers that provide lead instruction within a special education class must be certified through the CDE. All other core content area teachers must have completed a bachelor's degree in the subject they will be teaching or take the appropriate PLACE/PRAXIS exams through the CDE. To learn more, review this document explaining the requirements of staff within DSST.
What does Professional Development look like?
DSST Public Schools offers a variety of professional development (PD) opportunities for our staff. Teachers have specific days during the school year that allow for cross network collaboration along with specific development opportunities for teachers to grow their teaching and leadership skills.
Are you a year-round school?
Our network does not operate year-round for our students. Our schools open in August and close for summer in May or June.
What about school schedules?
Each school operates from around 8:00am-4:00pm.
So, DSST is a charter school?
Yes, DSST Public Schools is a free, open-enrollment, not-for-profit public charter school. The charter-public relationship is unique in Denver. We contract with Denver Public Schools and Aurora Public Schools, and we are held accountable to the same performance standards as any other public school in our districts.
What are the benefits of charter schools?
There are many! We create our own curriculum, we can pivot quickly when changes need to be made, and we can ensure instruction is culturally meaningful and rigorous.
Is DSST a part of the PERA system?
DSST Public Schools is not part of the Colorado Teacher's Pension plan. All our staff do have access to a 401K account that receives a 5% gift after each year of service. Starting in 2019-2020 teachers working in our Aurora campus will be part of PERA.
Do I have to apply separately for each different school?
Candidates apply to the network wide positions for all non-seasonal positions - this includes but not limited to full-time teachers, non-instructional staff, school leadership. If you have a location preference, please indicate that in the application. For any coach or elective teacher that is seasonal, each campus does have a separate application where you can indicate your desired role. Please reach out to our Talent team if you have any questions about the differences.
Can I get a bonus for moving to work at DSST?
For those who are relocating 75+ miles from Denver, we offer a one-time bonus of $300 or $1 per mile (whichever is greater). For those who are relocating from outside of the United States, Alaska, & Hawaii, we offer a one-time bonus of $2,000. This policy applies to all full-time DSST positions and is calculated using employees' former address with DSST's Home Office address.
It's time to reimagine your future! Come join us at DSST, where your life's work is our mission.