It's the last full day of the school year! Here's what you need to know:
Interim and ANET Assessments
When: Thursday, May 27 and Friday, May 28
What: ELA, Math, Science and Social Studies
Advisory at 8:15a
Testing starts promptly at 8:30a; students will be released at 12:30p
*Students who receive accommodated assessments will be offered the opportunity to test in the building and their release time will be delayed. More specific information will be sent home as we get closer to the testing day.
6th and 7th Grade Award Ceremonies:
CORRECTION: 6th Grade: Tuesday, June 1 or Wednesday, June 2 based on your child's Advisor (see Last Day information) from 8:30a-8:50a
7th Grade: Wednesday, May 26 during advisory lunch at 11:30 am
Videos will also be posted of Award Ceremonies and 8th Grade Continuation
Important Dates:
Thursday, May 27 and Friday, May 28th: ANet/IA Assessments, 12:30p dismissal (Virtual)
Monday, May 31: Memorial Day (no classes)
Tuesday, June 1: Last Day for 8th Grade with class picnic and Continuation
Wednesday, June 2nd, 2:00p-4:00p: Laptop return for students who did not attend last day In-Person
June 9-June 22 (8:45a-12:00p): Virtual Summer School for Returning students

Parents of students attending Virtual Summer School will have already been contacted
Details on the last days of school
Click on the link below to get information:
Last Days of School
New Student Academy
We are welcoming a new group of 6th Graders to DSST: Montview Middle School on Monday, June 7-Wednesday June 9 from 8:00a-11:00a. We would love a few more parent volunteers to support our staff and help make this important touchpoint a success. If you are interested in volunteering, you must:
School Culture
Morning Meeting from our beloved Montview Knight!
Community Outreach:
Our student leadership team is joining From The Heart, Ent's Family Service Day on May 30th!
This week we are accepting donations of chocolate candy, or other sweet candy treats, to add to hygiene bags that will be given away to homeless members of the community.

8th Grade Continuation Information
We are so excited to celebrate our amazing 8th Grade Knights this year! On June 1st from 8:15-11:15am, we are inviting all 8th graders to join us in-person at the high school for a special advisory meeting, brunch, laptop check-in, and special continuation activities.
June 1st 8th Grade Schedule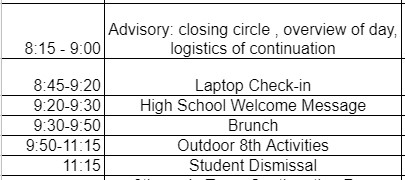 Also June 1st, The Virtual Continuation Ceremony will start at 5:30pm on Microsoft Teams: Join live event!
Facebook Celebrations: Families are invited to create a special slide to share on our MTV Middle School Facebook Page. Facebook slides should include fun pictures and special words of encouragement from the families to their students. Email your Facebook Celebration slide to Jessika.LaPaglia@scienceandtech.org
Summer Opportunities (thank you to the MTV HS student Newsletter!)
Emerging Filmmakers Workshops! Emerging Filmmakers Workshop is a story-based filmmaking workshop for teens age 12-18
InspireHER: Overnight Summer Programs for 6th-12th Grade girls