Happy Tuesday, Montview Families! Here is your Tuesday Times for the week of March 23, 2021:
Report Cards were sent out last week that included Fee statements for some families. If your family qualifies for Free/Reduced Lunch, please let the Front Office know so that we can reduce fees. If you would like to make a fee payment, you can pay by credit card online HERE or come to the Front Office during school hours, or call the Front Office with any questions.
Important Dates:
Monday, March 29-Friday, April 2: Spring Break, No School (Have a safe and amazing time!)
Monday, April 5: Start for 4-Day In-Person Learning
Tuesday, April 27 and Thursday, April 29: Picture Day for In-Person students
Wednesday, April 28: Picture Day for 100% Virtual Students
We will have more details when we return from Spring Break
---
6th Grade GT Screener
Please remember to reference communication about our GT Screener for 6th grade on Thursday, March 25th for our 6th grade students.
---
School Accountability Committee: Our MTV MS and MTV HS School Directors, John Clark and Becca Meyer, held our School Accountability Committee Meeting on Thursday, March 11 (we apologize for the delay in sharing the video and presentation). The final School Accountability Committee Meeting will be held on Thursday, June 10 from 4:00-5:30pm on Microsoft Teams. If you would like to attend, please contact leonardo.ruiz@scienceandtech.org. We encourage you to view the recording and presentation from the most recent meeting:
---
Assessment Updates
CMAS
We plan on administering the CMAS assessment after spring break, starting the week of April 12. More information, including detailed schedules, will be shared in the coming weeks. If your student is currently attending our Virtual Only option, please fill out this survey to indicate your testing preference for your student. Thank you for our support and patience as we work to ensure that all students have the safest opportunity to share their knowledge!
---
School Culture
This week is time to celebrate with our community during our Trimester 2 Award Ceremonies! Please contact your child's Advisor for a link to tomorrow's Awards Ceremony.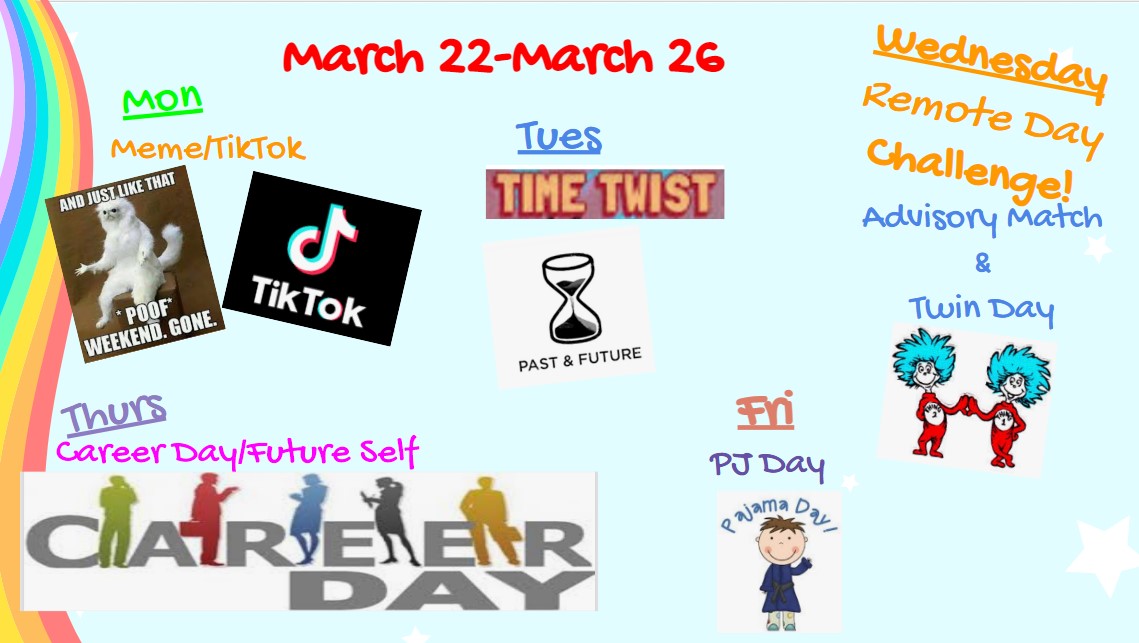 This week, March 22-26 is Spirit Week! We are excited for both in-person and remote students to have an opportunity to dress up or engage in some fun challenges to build connection and school spirit.
Wednesday: Advisory Background Match Challenge & Twin Day Tag
Thursday- Career Day/Future Self
Friday- Pajama Day
Spirit Week Dress Code:

If you have any questions or concerns regarding the dress code policy please reach out to your student's dean:
6th grade girls and 7th grade- Mrs. Snider (lauren.snider@scienceandtech.org)
6th grade boys and 8th grade- Ms. Haynes (renetta.haynes@scienceandtech.org)
Dean Morning Message Video:
Growth Mindset, Curiosity, Spirit Week
---
Health & Safety:
COVID Community Testing
Onsite Testing update:
If your child attends In-Person Learning, we encourage you to sign-up for On-Site Community Testing
The required ID# for DSST students is their 6-Digit School/Lunch ID#.
Contact leonardo.ruiz@scienceandtech.org if you have any questions or concerns.
---
Link to order uniforms: https://www.dsstknights.com