Dear Montview Families,
Welcome back and happy 2021! We hope that your years are off to a good start and that the new year brings you many blessings.
As we start our second half of the year, we are excited to continue building on our strong foundation to support you all and your students. We know that we still have much to consider as we continue to work through the pandemic and we are hopeful that sooner rather than later we can have a return to school. We will work through this together and to be in steady communication throughout. As always, reach out to our school community with anything you might need.
Go Knights!
John Clark, School Director
---
Reminders and Upcoming dates:
MTV MS Tech Lab Hours update:
Monday/Tuesday/Thursday, 8:00am-4:00pm, on site support
Wednesday/Friday: 8:00am-4:00pm, virtual support
Families must coordinate with Derrik McFadden for drop-off/repairs at the nearest DSST campus
Center Program Return Jan. 11
Our Knight's Castle Center Program will be returning for in-person learning next week on January 11th. We are excited to invite a few of our students and staff back into the building! Please reach out to David Coons at david.coons@scienceandtech.org with any questions you might have.
iReady Results
Before the Winter Break, students took iReady assessments in Math and Reading. As we noted before, these assessments are given three times a year and are a helpful measure for teachers to see the progress of students throughout the year. iReady also provides students and teachers with online lessons that coordinate with their ability level in a way that we hope targets their academic needs throughout the year.
In the next week we will be celebrating students who reached their winter growth goal. Beyond that, teachers will be using this data to further accommodate and differentiate for students. More information will be shared about school progress and results in upcoming family communications.
School Culture
We are so excited to welcome students back from break!
Upcoming Celebration: Friday, January 8th Dean's List Students will be announced. We are celebrating students who were nominated by their advisor for Doing Their Best and Being Their Best Selves.
Attendance Matters: Wednesdays Advisor Check-ins are from 12:00-1:00pm. Please remind your student that they are expected to be online between 12:00-1:00pm if they have Advisor Check-in scheduled.
Tri 1 Award Videos
Clubs & Activities
You can visit our website for more updates: MTV MS Clubs & Activities. As a parent/guardian, we encourage you to join the clubs! We'd love to have your involvement.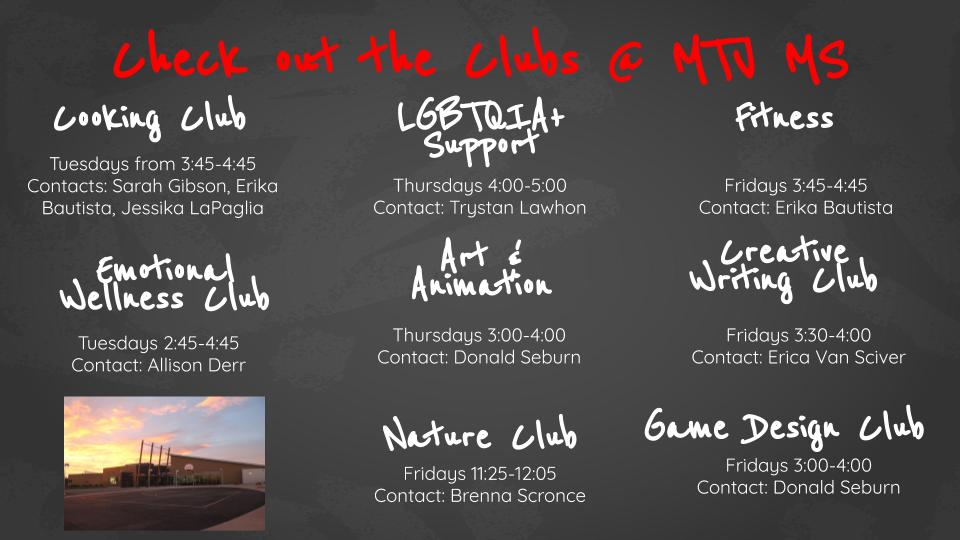 Signs of Suicide Family Training
To best support our students, we also would like to ensure the adults in their lives have had training to recognize signs of suicide in their student(s) and how to seek help if they are worried. Our DSST staff have already completed this training and we are offering training for our families.
When: Jan 12, 2021 06:00 PM
Where: Zoom (links will be sent in a separate email/flyer notice)
Zoom Workshops & Discussions
Take a dip in our upcoming Zoom workshops & discussions run by passionate PROFESSORS and
EXPERTS.
For more detailed info about each of the sessions, go to SIGN UP HERE.
List of DPS GT Upcoming Academic Workshops for Students and Families
We'll send you details soon once you sign up. Most will be 2-3 pm on an upcoming weekday.
Free Student COVID Testing
Families have access to free DPS testing
Step 1 - Call School Based Health Center main phone line 303-602-8958
Step 2 - Schedule for a same day phone consult to assess symptoms / need for a test
Step 3 - If a test is determined necessary, schedule same-day for the test
Step 4 - Go to one of the School-Based Health Centers to complete the test:
Federico F. Peña Southwest Family Health Center and Urgent Care
Lowry Family Health Center
Montbello Family Health Center
Rita Bass Trauma and EMS Education Institute
You can pay your school fees online by clicking HERE.